When I was a kid, I used to hang out in the bathroom for many many minutes longer than was neccesary in order to escape dishes, people, or just plain ordinary. I'd sit there, doing nothing in particular, staring at the tile in front of me abso-positively CONVINCED that if I Stared At The Wall for long enough I would discover the hidden "catch" - the Doorway to Worlds Unknown (it was usually a combination of top-secret maneuvers and mind powers, none of which I'll reveal at this time).
Today my efforts payed off.
View this wall, if you please.
Looks ordinary, no? Yes, I thought so myself every time I passed by it (which was often). THIS morning, however, something caught my eye:
Ever a sucker for a exploration, I pry further and discover a hidden passageway (how exciting, I think I may have wet myself)...
I clamber up and then, on hands and knees sneak my way through, around and over. What will I find? Harpies and succubi, beholders and nymphs, sirens or King Kong?
I am merely the messenger but I was not disappointed.
Heck no!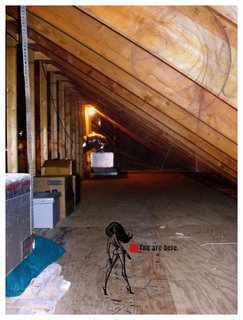 I wriggled, pryed, grasped and squeezed but at last I came to the pulsating heart. It was revealed to me in all it's splendor. And I don't mind saying, it made me catch my breath...just a tad, mind you. I don't want to seem green.
You wanna know what Jonah felt? I give you The Inside of the Whale:
Amongst the beams and organs I stumbled upon creatures the likes of which I've never before...behelden?
Take this character for example,
I don't know what it was, but I sure didn't want to cross it.
I had to swear an oath, a blood oath that I wouldn't reveal the deeper secets, nor the Meaning of Existence that I disovered in that place of wonder. I'd LIKE to, but....you understand.
I am enough of an artist to draw freely upon my imagination. Imagination is more important than knowledge. Knowledge is limited. Imagination encircles the world.
--Albert Einstein